Currency News: Trump's Presidential Victory Causes China's Yuan To Fall While Rallying The USD
Currency News
Yuan Falls As Trump's Presidential Victory Causes Uncertainty regarding U.S. & Chinese Relations 
As president elect Donald Trump prepares himself to enter the oval office, China's yuan has dipped to a 6-year low amid concern of Trumps foreign policy plans directed at the second largest economy (China). Today, the exchange rate between the yuan and USD has fallen o.21% to 6.79 per dollar. Though it is unclear what a Trump presidency would look like and whether he will act in a more professional and pragmatic manner, his current views are to proclaim China as a major currency manipulator. Furthermore, he has threatened a 45% tariff on China in an effort try to bring back 'lost jobs' to the United States. The Commonwealth Bank of Australia estimates that this could cut exports from China to America by about 25%.  
"The yuan may be pressured by Trump's win," said Nathan Chow, an economist at DBS Group Holdings Ltd. in Hong Kong. "There's speculation that he could add punitive measures that hurt China's exports, and also he may favor higher U.S. interest rates." This as well comes during a time of declining growth from China as it begins to stagnate in economic growth. Additionally, though capital outflow has been slowing down it still remains quite high, putting further pressure on the yuan.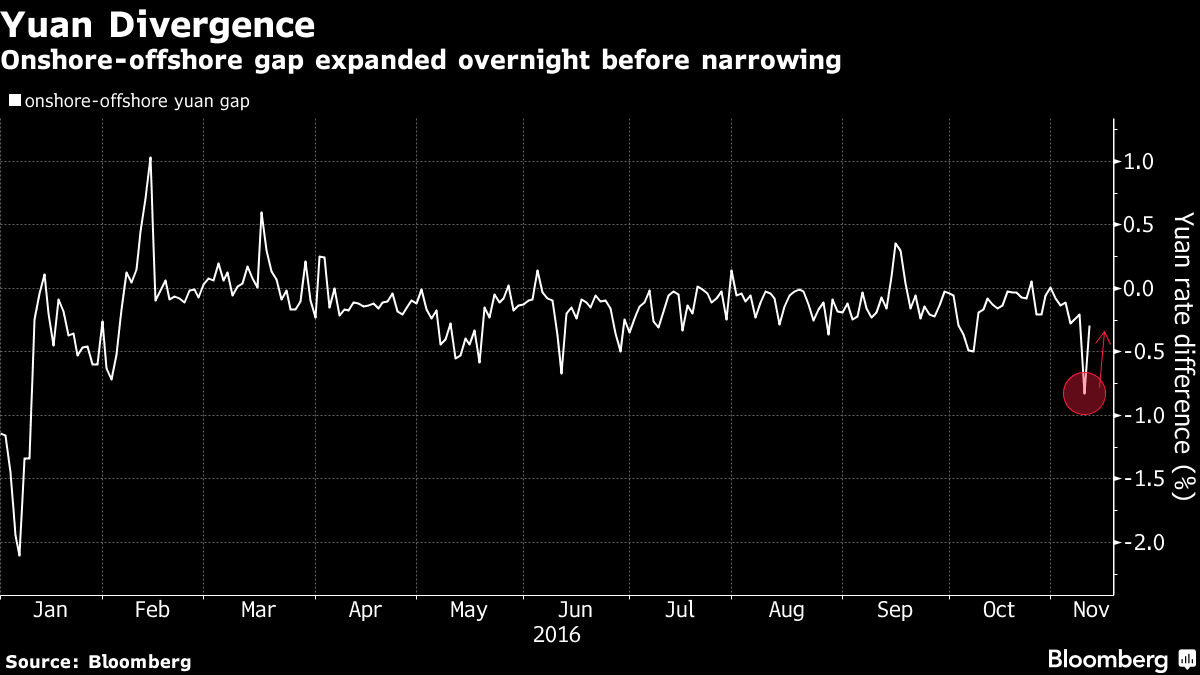 Though it remains quite unclear whether Trump will follow through with his negative outlook on China, it also puts at risk much work and bilateral agreements put forth by President Obama and Chinese President Xi.
Dollar Rallies As Investors Grow Optimistic of A Trump Presidency
Though China's yuan has declined, the USD had a tremendous surge, last seen post-Brexit, after Trump won the U.S. election yesterday. Not only have global equity and commodity markets surged after his election, the USD has as well rallied high against emerging market currencies. With both a republican legislative and executive branch, many investors are hoping this will spur economic growth as a result of Trump's proposed fiscal-stimulus policy measures. Furthermore, the implied market probability of a rate hike during the month of December has now increased from 50% to 80% as a positive economic outlook emerges.
Additionally, Trump's post victory speech had as well helped calm the market, as it was more aligned to how people expect a president to behave. "The speech did calm the market down," said Stephane Marie, head of foreign-exchange dealing operations at Swissquote in Gland, Switzerland. "So far, we only saw the eccentric, megalomaniac Trump and people were expecting, as was I, a very aggressive speech. But his speech was professional and presidential. It was a surprise."
In the long-run many believe the dollar will continue to rally if Trump upholds his proposals of increasing infrastructure spending to spur domestic job growth as well as cut taxes across the board. He as well wants to ensure big U.S. corporations such as Apple and Microsoft will begin bringing their billions of offshore dollars back into the United States, which would spur capital inflow,further increasing the dollar.
Keep checking for more currency updates. For full currency forecasts and investment advice by our state of the art algorithm click here.