Currency News: Dollar Surges After Positive Economic Data & Russia's Economy Begins To Show Signs of Recovery
Currency News
USD Surge Increases Interest Rate Hike Expectations For December
As more positive economic data was reported earlier this week, the USD surged ever higher with an even more increased expectation of a rate hike come December 2016. Generally, currency moves in a positive correlated manner with interest rates as they interact through capital inflow/outflow. With a higher capital inflow due to an increase in interest rates, the dollar should rise relative to its peers.
This past week, demand for durable goods was reported as up 4.8% for the month of October. This demand represents consumption for long-term goods meant to last for a few years. Though this news shows consumption has increased in the U.S. economy, it also represents a possible increase in expected inflation which in turn would mean a rise in interest rates. Consequently, the S&P 500 Index had dropped 25 basis points after the report was released. Furthermore, gold, which is generally an alternative investment for hedging had dropped 1.4% as well; because an increase in interest rates would make interest bearing assets (bonds) more attractive than gold.
"A December Fed funds 25 basis-point rate hike is fully priced in," said Elias Haddad, a senior currency strategist at Commonwealth Bank of Australia in Sydney. "The dollar will continue to be driven by the pace of the Fed's tightening cycle beyond December."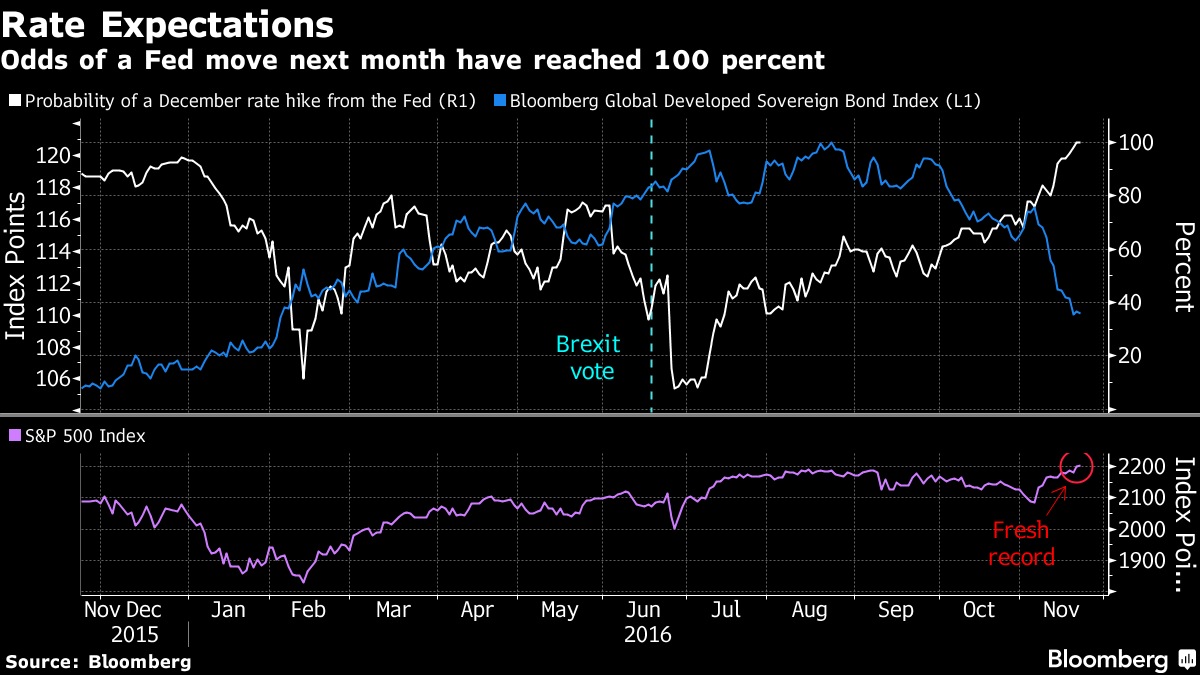 Russia's Economy Beginning To Exit Recession As Foreign Investment Begins to Grow
Over the past week, Russia's ruble has been showing signs of further recovery, climbing over 2% against the dollar. Though oil prices haven't' been recovering much, the ruble has been losing correlation relative to crude oil prices over the past few months. The main reason for the recovery is as a result of renewed capital inflow into the Russian economy as international companies believe the current russian recession is ending. Companies such as Pepsico, Ford Motors, and Ikea are expanding development and are beginning to invest heavily in Russia. "This is the moment for investment," said Walter Kadnar, country head for Ikea, who has opened $60 million furniture factory in St. Petersburg.
Investors are as well becoming more optimistic on the russian economy as the russian ruble has begun stabilizing in recent weeks as a opposed to the volatile months in the past. "The last 2-3 years have been a disaster," said Frank Schauff, head of the Association of European Businesses in Moscow. "Now, the situation is changing as the ruble exchange rate has stabilized and the Russian economy is forecast to return to growth soon." In september, during its annual foreign investment meeting, the Russian government said it had saw the highest top executives come in a decade.
Though this does mean that Russia is approaching a boom in its economic business cycle, the capital starved nation seems to exiting the trough point.
Keep checking for more currency updates. For full currency forecasts and investment advice by our state of the art algorithm click here.